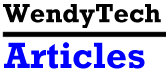 Your Online Image: Where's the Client?
by Wendy R. Leibowitz
(This article originally appeared in
ABA Law Practice Management magazine, October 2004)
The Internet can transform relationships between lawyers and clients, creating a strong network of shared experiences and mega-referrals. But you have to take the lead.
Lawyers tend to divide the world into two categories: lawyers and non-lawyers, with the latter also known as "everybody else." Then, we tend to look only at what other lawyers are doing and to discount the experience of the rest of the world (with the possible exception of accountants and doctors). But let's consider that the key to successful relationships is reaching out and touching others from their perspectives. Well, then, discounting the experiences of "everybody else" - which is basically your marketplace - hardly does much good in building relationships with clients and prospects.
The Internet provides the opportunity to tap into the life of the client's experience in dazzling ways - whether you're looking to promote yourself to prospective clients or to solidify relationships with existing clients. (Both good ideas, by the way.) Yet when I look at the image that most lawyers present online, I have to wonder: Do you know where your clients are?
Making It Nice and Newsy
Don't get me wrong, there are certainly some lawyers and law firms using the Internet to promote their services and build relationships in innovative ways. Here are a few of my current favorites:
Holland & Hart's site features a weblog, or blog, focused on health care law issues in its core market (western states) at www.hollandhart.com/healthcare/blogindex.htm. Plus, the firm has followed it up with a news feed program, allowing people to receive free e-mails on the topics of particular interest to them, rather than them having to pull the info from the site directly.
I receive an "IT Alert" from Hughes & Luce, www.hughesluce.com, that puts to shame much of what I read (let alone write) about information technology. This firm obviously knows that the word "alert" gets people's attention, without the firm wedding itself to a particular publishing schedule. (The word "indictment" also causes heads to swirl, but it might cause needless alarm in my e-mail box.) Also impressive is the "Client Service Success Stories" section of the firm's site.
Paul, Hastings, Janofsky & Walker, http://paulhastings.com, publishes a beautiful newsletter on its site, and it features a separate "Client News" section, which reports on client initiatives and the firm's involvement in them. A nice showcase for the clients, not just for the firm.
The courts, too, are stepping up to the plate in their way. While it's not exactly "business development," the Ninth Circuit Court of Appeals is now showing off its services by publishing its own opinions (gasp) on its Web site, www.ce9.uscourts.gov, on the same day they are released (though the page loads very slowly). Sadly, that site doesn't link to "Underneath Their Robes," http://underneaththeirrobes.blogs.com, which contains necessary gossip about the federal judiciary, including the fact that Ninth Circuit judge Alex Kozinski was voted the "hottest" thing in black robes. Although the voting irregularities were Florida-esque - someone voted for Kozinski five times, using five different e-mail accounts.
Forming Sight-Unseen Relationships
But back to the subject at hand - leveraging the Internet to strengthen those client relationships.
Remember that the Internet lets people form impressions about you, your firm and your practice expertise before they are your clients. That's why it's important to promote your Web site and its services to those whom you'd like to have as clients, as aggressively as is ethically possible. Just sitting back and waiting for people to come to your site is akin to not talking at networking events, playing golf or having lunch with anyone. Because when people do need a lawyer, if they already know your name and have a positive association with your Web services, you are a step ahead in representing them.
When a client starts looking for representation, the Internet is usually a valuable part of the search. That's especially true of business clients. Rachael Loper, marketing director at Greenfield/Belser Ltd. in Washington, D.C. (www.gbltd.com), reports that "65 percent of in-house counsel say they have gone online to search for legal services," according to a Greenfield/Belser survey of in-house counsel. She adds that "38 percent search weekly or more." The survey also found that 86 percent go directly to a site - they already know it or they have the lawyer's business card.
At the very least, recommends Loper, you want to regularly ensure that your site bio is readable, up-to-date and customized to your practice. (Amazing how many lawyer bios don't meet those basic criteria.)
Many sophisticated clients now use Internet technologies during their RFP process, too, doing their initial screening online before interviewing people in person. Law firms can, and should, be able to respond in kind. "There are firms that do an entire proposal [for client representation] on an extranet," says Loper. The team of lawyers sends a link of their proposal, including budget, to the client, thus demonstrating, rather than boasting about, their technology prowess. That's pretty cutting-edge, Loper acknowledges, but it sure starts off the "client experience" with a sizzle.
Keeping the Ball in Play
Once the case or the client matter has been obtained - and the retainer check cashed - too many lawyers drop the client-experience ball. Lawyers are familiar with the pace of the process, and they don't think twice about letting a week or two go by without client contact. But in these days of instant and virtually free communication, clients' expectations about information have risen. They feel that they're entitled to know the status of their matters and should be allowed to receive e-mail updates at certain intervals (if they so authorize, of course).
Yes, sometimes the e-mail might say nothing more than, "We are still waiting for the clerk to docket your matter. In the meantime, here is a newspaper clipping or other item that I think might interest you." But that's a lot better than clients fretting over the fact that they haven't heard back from you or your firm.
People involved in stressful situations (buying a home, getting a divorce, incorporating a business, suing or being sued) need reassurance. Ironically, the impersonal technology of e-mail can help you keep in better touch, or less-intrusive contact, than the telephone. If a customized e-mail is all it takes to reassure people, they're entitled to it.
Sometimes, a personal touch in the client's bill can mean a great deal, too. It astonishes me how impersonal many legal bills remain. Recently, a wonderful young lawyer represented me during a real estate closing. He knew the neighborhood in which I was investing, and he helped me feel comfortable about the process. When I received the bill, I was startled to see "For services rendered" and nothing more. Had he added, "Good luck in your new home," or "Thank you for allowing me to represent you," or just a few words of that sort, it would have made a big difference. Now that some legal bills can be sent electronically to clients (by mutual consent, of course), it's even easier to add a personal note.
And here's something else: Letting clients monitor their legal bills online can alleviate much unpleasantness later on.
It's Not Over, Even If the Fat Lady Sings
Your relationship with a client doesn't end when the final bill is paid. Or at least it shouldn't. Unless, that is, you never want to see or hear from that client or that client's friends again - then drop all contact.
If you do want or expect your paths to cross again, continue the relationship electronically, in a more personal way than the traditional sending of newspaper clippings or dull newsletters with the formal "Of possible interest" note clipped to them. E-mail has eased communications and also allows for slightly less formal interchanges. "It's been three months since we closed your matter. I hope you and your business are doing well" can be an appropriate and welcome message. Or, "We are holding a breakfast on the following topic. I thought you might be interested in attending" could beat a holiday card. (Be sure to include a link that recipients can click on if they don't want to receive further notes or invitations from you.)
But don't stop there. Think beyond your individual business objectives and consider this: Even if you never land a client through your snappy Web site or your Internet writings, the image you project through online tools can help bolster the image of the legal profession as a whole, which could use all the help it can get. For every unscrupulous television ad or highway bulletin board ("Having car trouble? Sue the manufacturer!"), effective use of the Internet can foster an opposing, positive impression of lawyers. By participating in neighborhood intranets, community Webzines or consumer-oriented sites, you can help redeem lawyers (or at least yourself) from the lawyer jokes.
Let's harness the technology and personalize it to market not just our practice expertise but also the profession's tradition of personal service, throughout the lifetime of a client's relationship with us.
|| About This Site || Articles || E-Filing Projects in the U.S. ||
|| Lawyers in the Movies || Links || My Background || Humor || Home ||
E-mail wendytech@gmail.com