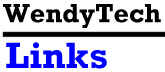 Internet Tools for Lawyers
Internet litigation
LLRX - Law Library Resource Xchange
The Virtual Chase
Law Professors' Network (JURIST)
Bytes in Brief
Cyberlaw column
James Gleick
Alan Rothman's Technology Discussion Page
Link Controversy Page
Tech Trends

There is no shortage of resources online dealing with legal issues in cyberspace. Below are a few of the most reliable. All are free, and happen to be maintained by people who are not only knowledgeable, but very nice:

Internet Tools for Lawyers -- Internet Tools for Lawyers, at www.netlawtools.com, is the brainchild of attorney/consultant Jerry Lawson. He points to useful books (remember those?) as well as Web sites for lawyers, and each month adds a Q&A on tech issues from a legal perspective. The site downloads quickly, which is what you'd expect from a Web site designer, and is well-organized and well-written. I check it out frequently.

Internet Litigation -- Sites devoted to Internet litigation vary in quality and content. Here are four that are updated fairly frequently, and have law firms standing behind them:

LLRX - Law Library Resource Xchange -- The excellent Law Library Resource Xchange is now redesigned, better than ever, and has decided to be called by its trademark: LLRX.com. The completely redesigned site debuted on January 17, 2000. Go there for legal and publishing news, cases, articles, and friendly service, brought to you by cybrians Sabrina I. Pacifici and Cindy Chick.
You can't go wrong with librarians. They know where everything is, and in the age of the Internet, I hope their skills and expertise will be given the respect, recognition and compen$ation they so richly deserve.

The Virtual Chase -- Genie Tyburski, a wizardly law firm librarian and legal researcher in Philadelphia, maintains her own site with running commentary on what's up and down in legal cyberspace, at www.virtualchase.com. Her updates are located at www.virtualchase.com/new.shtml.

Law Professors' Network (JURIST) -- On the same subject, the excellent Law Professors' Network, called JURIST, at http://jurist.law.pitt.edu/ , offers an "ask the Virtual Reference Librarian" feature in which a librarian from the Barco Law Library at the University of Pittsburgh School of Law, will answer your legal reference question for free. What a profession. Just reading the archived answers to questions asked is an education in and of itself. Scroll down to the bottom of the page located at http://jurist.law.pitt.edu/ref_desk.htm.

Bytes in Brief -- Sharon D. Nelson, Esq., President of Sensei Enterprises, Inc., and a lawyer in Fairfax, Va., publishes a free monthly e-mail digest of Internet law and technology news called Bytes in Brief. You can read current and past issues of Bytes in Brief, and subscribe, at: www.senseient.com.

Cyberlaw Column -- Carl Kaplan's insightful Cyberlaw columns appear every Thursday on the New York Times' Web site, at www.nytimes.com/
library/cyber/law/indexlaw.html.

James Gleick -- James Gleick, also of the New York Times, is one of my idols of clear, concise technology writing, even though he doesn't write enough about law and may not be a lawyer. Still, he has a great site: www.around.com/.

Alan Rothman's Technology Discussion Page -- Alan Rothman, formerly the manager of information services at Cahill Gordon & Reindel, and the director of the well-equipped computer lab at New York County Law Library, has started a new, broad technology discussion page (including a discussion about the X-Files TV show--so it's a VERY broad discussion group), at www.tech-topicsshifts.com/.

Link Controversy Page -- Stefan Bechtold, a cyberlawyer in Tuebingen, Germany, maintains an excellent Web site called the Link Controversy Page. His site includes cases and articles on framing and hyperlinks, online images and framing issues confronting the World Wide Web. And that's "World"--there is an impressive collection of non-U.S. resources here, as well as some coverage of copyright, trademark and unfair competition law: www.jura.uni-tuebingen.de/~s-bes1/lcp.html.

Tech Trends -- The New York Law Journal's Tech Trends is an excellent monthly supplement devoted to high-tech legal issues: www.nylj.com/tech/.
|| About This Site || Articles || E-Filing Projects in the U.S. ||
|| Lawyers in the Movies || Links || My Background || Humor || Home ||
E-mail wendytech@gmail.com